Preparing your home for a winter sale
25 May 2022
While traditionally spring has been the peak selling season in real estate, today it is a year round affair.
Winter can be a great time to show your house when you take these tips on board.
Street Appeal
Whatever the season, first impressions count. When it comes to homes for sale that starts from the street.
Late autumn and early winter can show off attractive golden leaves adding colour and texture to the facade of your home.
However, it's also a time that gardens have their challenges, which can be easily fixed.
When trees have lost their leaves, it is an ideal time to prune and cut back overgrown branches which may be visually unappealing to new buyers.
Typically, winter is also a time that less flowers are in bloom. So think about a trip to the nursery, or employing a gardener, to add colourful perennials to key parts of the house exterior. Think about a touch of colour for garden paths in homes with larger yards, or potted colourful flowers at the entry point to the home.
Let there be light
No matter what time of year a home filled with natural light is a big attraction to buyers.
If you are showing your home in winter, consider open homes at the time that your home is most exposed to natural sunlight.
Consider removing heavy curtains and blinds from feature windows, to again show your property in its best light.
Small reno projects which can have a big impact on buyers are painting darker walls lighter shades. Key cabinetry, such as kitchen or storage cupboards, can also be given a "light touch" with a crisp paint colour.
If a property stylist is coming on board, they may also suggest replacing darker and bulkier furniture during the sales campaign with lounges in fabrics with a lighter tone and texture.
Seasonal Sensation
Some homes will always appeal to buyers more in winter, for example, those that have a feature fireplace, however, any residence can undergo some styling to make it more appealing in the cooler months.
Pillows and throws in rich winter fabrics can be added to a living room lounge to give it an extra cosy feel. Jewel tone fabrics, from russet orange to verdant greens, are popular in-home interiors today and can update your home's look for the season and the latest trends. A feature rug on timber floors can add further warmth to a room.
Take the detail in the bedroom with a rich velvet throw over a crisp white cover to achieve a balance between lightness and warmth.
Great outdoors all year round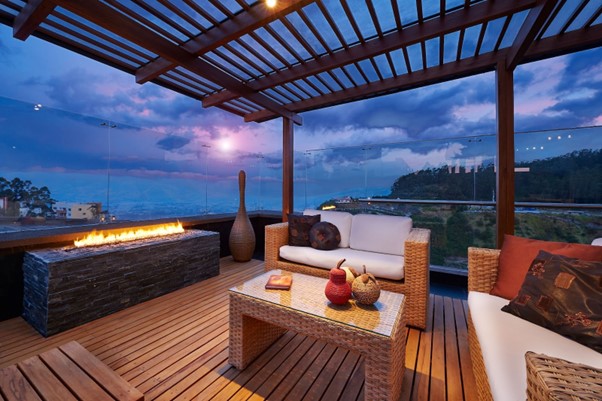 Australians love a sense of indoor-outdoor living, with homes offering alfresco dining and poolside entertaining a big hit in warmer months with buyers.
However, there are ways to show off your outdoors in cooler weather too.
A fire pit is a great gathering place for friends and family during winter and one that can show off an entertaining area to potential buyers.
Outdoor furniture can also be dressed with pillows and throws to make an alfresco spot shine even in the winter months.
It's all about timing
While daytime open homes are the norm, a twilight showing can also appeal in winter.
Stepping from a cooler evening into a warmer home (yes, have that heating up to a comfortable and inviting temperature) can be very enticing.
If you have a view of city lights, the twinkling vista can be shown off at its best to buyers.
Ensure a warm welcome
If you've invested in good heating for your home now is the time to show it off. Be it a feature wood fireplace, slick gas fireplace or even hydronic heating, a warm home can be most welcoming and appealing to buyers looking for a comfortable home.
Share